Man, I have been thinking a lot about AustinSurreal lately and about how the lure of the lakes and rivers have pulled me so far away from my "job" as a blogger. I haven't really offered y'all much of anything so far, no interviews, I have no radio show to upload, barely any songs, so I'ma gonna step my game up, and AT THE VERY LEAST hip you to some real shit coming from my vicinity.
First up is this lil gem produced by one of my favorite current, up and coming producers.
Igor da Bosnian came here from, you guessed it, Bosnia, some years back. The boy was raised in a real warzone, and now lives in a real peace zone (I mean I know a lot of y'all wanna think it's more than it is, but I've said from the beginning of time, Austin is nice, even the bad parts. Not to take anything from anyone, but the niceties of Austin are what I tend to celebrate. Though it's not without problems, it sure as fuck is not Bosnia.)
Anyway, the man has beats and has a real vision for forging his own path. This song, "Do Things" features Magno and Preach of the Coughee Brothaz trading verses. I'm trying to tell you, this kid is one to watch.
DOWNLOAD PREACH BLAQ & MAGNO - "DO THINGS" - PRODUCED BY DA BOSNIAN HERE
.
And please leave a comment below to let me know what you think.
Also if you wanna hear some of the realest music coming out of Austin right now, check out
DRED SKOTT'S MYSPACE PAGE
. They fucking rule.
And for a well rounded look at what's really going on out here in the 512, there's a new mixtape out on the streets. Not sure how to get it on the net, but when I find out I'll let you know straight away. I been jammin' this the past few days. There's a few songs on here that you may have heard before if you have been keeping score, but all in all it represents Austin well, and I think you should hear it.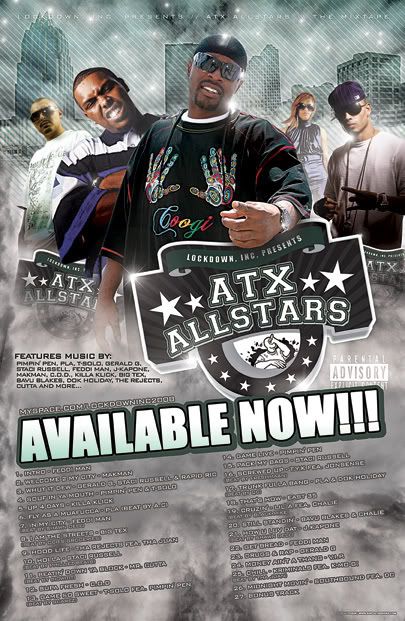 And lastly, New York City we coming back. Devin the Dude live on September 6th for
East Village Radio
's 5 Year Anniversary Event. Word to Queen Majesty, you can't miss this. It's at the South Street Seaport and it's FREE!
EAST VILLAGE RADIO MUSIC FESTIVAL DEBUTS SEPTEMBER 6th, HOSTED BY KRS-ONE, FEATURING FREE PERFORMANCES BY:
Boris, Flying Lotus, High Places, Devin the Dude, Awesome Color, Vivian Girls, Dr. Lonnie Smith, The Hypnotic Brass Ensemble, and Ólöf Arnalds, as well as John Oliver of The Daily Show.
East Village Radio marks its fifth anniversary by debuting the East Village Radio Music Festivalscheduled for 1 p.m. to 9 p.m. Saturday, September 6 on Pier 17 at South Street Seaport.
Hosted by the legendary KRS-One, acts slated to perform throughout the day, in addition to Boris, include New York's own and/or adopted bands Awesome Color, Vivian Girls, High Places, Dr. Lonnie Smith, and The Hypnotic Brass Ensemble, plus L.A.-based Flying Lotus, Chicago/Atlanta's 4-IZE, Texas-based Devin the Dude, and Icelander Ólöf Arnalds, as well as a special appearance by John Oliver of The Daily Show. More bands will be announced for the venue dubbed "On The Side" @ Seaport, located at 210 Front Street.
Also, featured on site at the festival will be exclusive visual imagery compiled by Anthology Film Archives, the East Village denizens dedicated to the preservation, study and exhibition of independent and avant-garde film, since 1970. The group will screen works from its collection of the world's most acclaimed avant-garde filmmakers, between 1 p.m. and 8 p.m., in a space dubbed "On-the-Side" @ Seaport, also located at 210 Front Street.
In addition to the diverse musical lineup offered at the free day-long festival, Frank Caters will feature for purchase a menu of special grilled items along with other dishes chosen solely for the festival. Along with the special grilled items only available at the festival, other dishes offered are from the menus of Frank Restaurant, Supper, and Lil' Frankie's Pizza will also be available on site at the venue known as @ SEAPORT, where Lil Frankie's chef will be working with their home made dough, fresh traditional ingredients, and toppings that Lil Frankie's pizzaria is known for.
For the festival, East Village Radio will run free shuttle bus service for fans between the station's First Avenue LOCATION and the Seaport from 12:30 p.m. to 7 p.m. Other locations TBD.